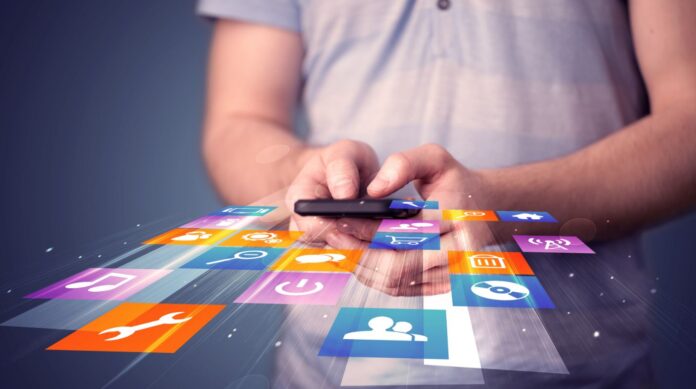 People nowadays rely on their mobile applications for practically everything they do daily. From conversing and networking to managing their money, running businesses, and making purchases, they need to be able to communicate and network effectively. This is essentially one of the most important reasons why businesses believe it is critical to developing their brand value and customer loyalty.
The current world has become extremely app-dependent, and businesses of all shapes and sizes should carefully consider how to leverage mobile apps to expand their consumer base and expand their reach And, the great majority of intelligent, forward-thinking business owners are embracing the mobile app revolution to expand their operations. For businesses looking to expand their consumer base and boost engagement, mobile applications provide a number of benefits. From brand marketing to better knowing your consumer base, there's nearly no limit to how much you can get out of them. Here are seven ways mobile applications may help your company grow:
Boost branding
Consumer recognition and communication with your business are two of the most crucial benefits a mobile app can provide. And you're building trust with your target market by interacting with them on a regular basis. The more your audience's confidence in you, the more likely they are to listen to subsequent sales presentations and ultimately commit to your brand. With an app, you can show (rather than tell) your consumers why they should trust you by demonstrating what your brand stands for.
Connect better with customers
If there's one factor that has a significant impact on consumer happiness, it's how quickly and readily information about a company can be obtained. The time it takes for support to reply might mean the difference between a lead and a conversion. If you want to provide your consumers with the fastest possible communication, a dedicated mobile app might be the missing link.
A mobile app, as opposed to websites and other platforms, is far more dependable, customised, and handy. Mobile applications are ideal for soliciting and collecting consumer feedback in addition to providing help.
Increase your revenue
In addition to your website and/or brick-and-mortar business, a mobile application with order fulfilment capabilities may easily provide another revenue channel. With a few taps/clicks, you can make restaurant reservations, get concert tickets, and buy goods and services, for example. But hold on! There's more! You may also make money by charging app users to upgrade, or by selling in-app adverts, among other things.
Direct marketing
For company owners, mobile applications provide the finest direct marketing opportunity. Looking at your clients' geographic areas can provide you more and more up-to-date information. Mobile applications also make it simple to provide consumers with important information about your products and services. You can quickly share relevant information and sell or promote your goods and services by creating various folders such as pricing, product details, newest features, special rates and discounts, a news feed, and others. Clients and consumers may even use their mobile phones to navigate through all of the tabs whether sitting in the park, office, or bus stop. As a result, compared to other marketing media, mobile app marketing is simpler and more straightforward.
Adding customer value
The major goal of developing and improving a mobile app platform for your company is to boost consumer and client connection with your services and goods. You may launch a loyalty and referral programme to provide value to your business while also marketing it and helping it grow by reaching challenging milestones with devoted clients.
Improving your accessibility
Users have easy access to mobile apps. Customers should feel secure when making purchases and interacting with your business while on the road. Customers that are happy with your software will tell others about it. This will provide you the advantage you need to keep ahead of your closest competitors. It acts as a direct channel of communication with your clients and consumers.
Cultivate customer loyalty
Last but not least, consumer loyalty is the most significant reason to consider developing your own mobile app. We progressively lose our interest due to the vast amount of advertising that surrounds us all—roadside banners, billboards, newspaper adverts, coupons, websites, Facebook ads, and email marketing.
It's time to get back to building genuine relationships with your consumers and turning them into ardent fans of your product or service. I'm not suggesting that a mobile app will save your company, but it can help you keep in touch with your clients and be only a "fingertip" away at all times.
Are you looking to optimise your company procedures and increase your profits? A smartphone app might be the missing piece of the puzzle. There's a lot that goes into developing an app, but with the proper plan and team, you can transform your app concept into a profitable business. There are several mobile app development company in Kochi that can produce the best app for your business depending on your demands and goals. From the initial consultation through the app launch, these firms will provide you with all of the necessary assistance.